The 5th International Symposium on Plasma and Energy Conversion, jointly organized by the Chinese Eletrotechnical Society, Nanjing Tech University , and the Institute of Electrical Engineering, Chinese Academy of Sciences, with the approval of the China Association for Science and Technology, was successfully held in Nanjing, Jiangsu Province, from October 27th to 29th. It attracted 350 delegates, including representatives from universities and research institutions from countries such as the United Kingdom, Australia, the Netherlands, South Africa, Germany, Kazakhstan, Bangladesh, Pakistan, and Myanmar, as well as nearly 100 domestic research institutes and enterprises. A total of 224 academic paper abstracts were collected for the symposium.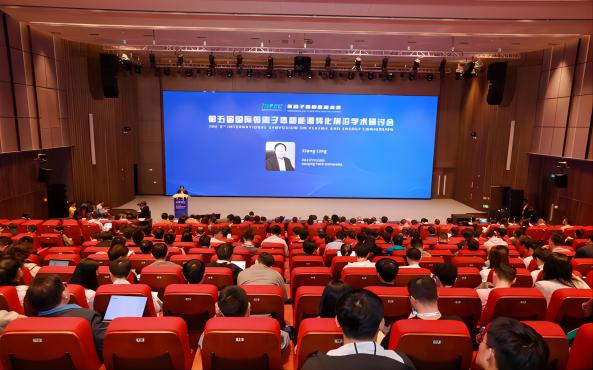 The opening ceremony was presided over by Professor Fang Zhi, the Co-Chair of the conference and Dean of the School of Electrical Engineering and Control Science at Nanjing University of Technology. Secretary General Yi Han of the CES and Vice President Xiang Ling of Nanjing University of Technology, as well as Conference Chair and Research Fellow Tao Shao from the Institute of Electrical Engineering, Chinese Academy of Sciences, attended the conference and delivered welcoming speeches. Dr. Yanjun Zhang, Director of the Department of Electrical Science and Engineering at the National Natural Science Foundation of China, and Wenchao Zhang, Secretary of the Party Committee of the School of Chemistry and Chemical Engineering at Nanjing University of Science and Technology, were invited to attend the symposium.
Secretary General Yi Han stressed that the symposium has enhanced the communication among scientists and technologists in the field of plasma science and technology, and has contributed to the scientific and technological development of plasma technology in various interdisciplinary fields such as materials modification, energy, and chemical engineering in China.
Vice President Xiang Ling introduced the history of Nanjing Tech University and the development of the School of Electrical Engineering and Control Science. He also expressed that Nanjing Tech University will take this grand event as an opportunity to engage with academic talents, gather insightful perspectives, broaden horizons, and strengthen friendships. The university aims to explore new ideas for collaborative research and innovative cooperation.
Research Fellow Tao Shao, the Conference Chair, pointed out that with the continuous increase in the proportion of renewable energy, numerous new Power-to-X technologies focusing on the direct conversion of electrical energy have emerged. Among them is plasma energy conversion technology, which is crucial for the development of novel utilization technologies for energy small molecules such as CO2, H2, and N2. He also proposed three key technical aspects in plasma energy conversion technology that need the joint efforts.
The keynote session was chaired by Professor Danhua Mei from the School of Electrical Engineering and Control Science at Nanjing Tech University , and Associate Researcher Zhang Shuai from the Institute of Electrical Engineering, Chinese Academy of Sciences. The plenary speakers included Professor Chunshan Song from the Chinese University of Hong Kong, Professor Xin Tu from the University of Liverpool in the United Kingdom, Professor Joachim Franzke from Dortmund University of Applied Sciences and Arts in Germany, Professor Leslie Petrik from the University of the Western Cape in South Africa, and Associate Professor Fu Yangyang from Tsinghua University in China.Their topics are Synergy of Non-thermal Plasma and Catalysis for CO2 and SO2 Conversion、Plasma Catalysis: Opportunities and Challenges in Gas Conversion、Diagnosis and Applications of Atmospheric Plasmas Applied in Analytical Chemistry for Soft Ionisation、Advanced Water Activation and Pollution Treatment by Double Cylindrical Dielectric Barrier Discharge Plasma Technology 、The Similarity Theory of Gas Discharges: A Review, respectively.
During the parallel sessions of the symposium, there were nine main topics: Plasma enabled C1 conversion,Plasma enabled nitrogen fixation and ammonia cracking ,Plasma conversion of biomass , Basic process of discharge plasma, Plasma assisted preparation of catalysts and materials, Plasma-Interface Interactions, High Voltage Measurement and Instrumentation, and Plasma Modeling and Simulation Technology. Additionally, there were six cutting-edge technology special sessions: Nanogenerators for Energy Conversion Applications, insulating gas characteristics research and advanced maintenance technology, trolled environmental pollution, Electrochemic Al Energy Storage Technology and Safety Monitoring, Plasma Medicine, and Dielectric Energy Storage Technology and Its Applications.
This year marks the fifth edition of The International Symposium on Plasma and Energy Conversion, and it has included in the "China Association for Science and Technology's Top Academic Conferences 2023" The Symposium discussions cover a wide range of disciplines, including electrical engineering, physics, chemical engineering, energy, and materials. It provides a high-quality platform for academic exchange, showcasing the latest advancements in relevant fields, and facilitating discussions on the future development directions in plasma and energy conversion.