On 12 June, Secretary General of CES, Mr. Yi Han and staff from CES International Cooperation Department attended the annual general meeting of Electric Vehicle Association of Asia Pacific (EVAAP) online. Members from China, Japan, South Korea, Thailand, and Hong Kong participated in the meeting, which was chaired by Prof Myoungho Sunwoo of Hanyang University and representative of the Korean Society of Automotive Engineers, the host of the current EVAAP.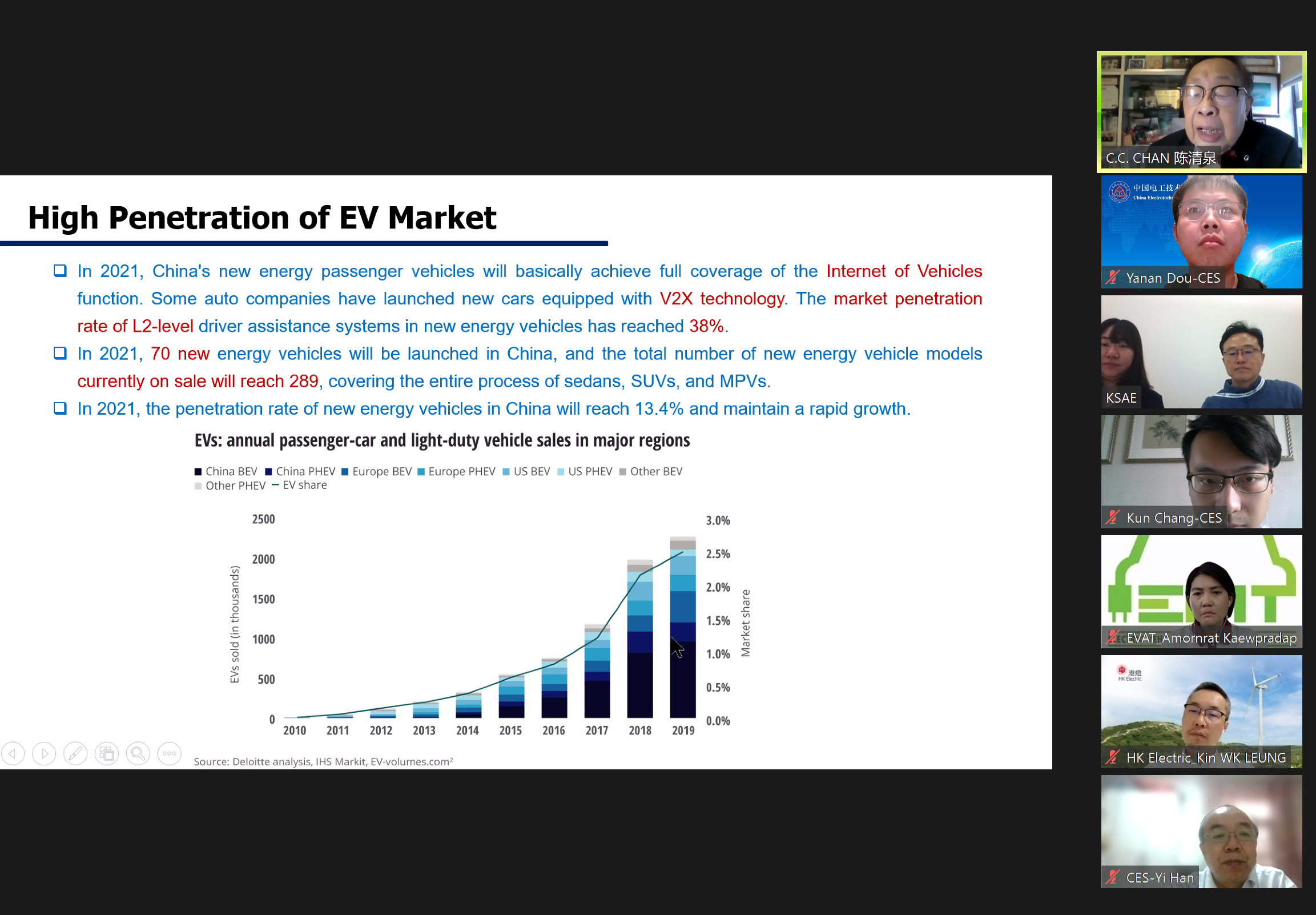 Professor Qingquan Chen, Honorary Professor of the University of Hong Kong, Fellow of the Royal Academy of Engineering, Academician of the Chinese Academy of Engineering, Founder and Chair of the World Electric Vehicle Association (WEVA) and EVAAP, provided a summary of the 34th World Electric Vehicle Symposium (EVS34) held in Nanjing, China last year, covering topics of papers, reports and exhibitions. He also introduced the high penetration rate of electric vehicles in the China's auto market, the improvement of electric vehicle technology, and the new advancements in core technology.
Next, Ir Kin WK Leung, Director of Customer Business Development of HK Electric, Dr. Amornrat Kaewpradap, Secretary General of the Electric Vehicle Association of Thailand, and Dr. Kenji Morita from the Automotive Research Institute of Japan, each introduced the development of electric vehicles in their respective countries/regions from aspects such as the penetration rate of electric vehicles and the prevalence of charging facilities.
Professor Myoungho Sunwoo introduced the preparations for EVS37 to be held in 2024. Secretary General Han Yi, representing CES, stated that CES will strengthen exchanges and cooperation with the world's electric vehicle industry and associations, vigorously support and actively promote the publicity of EVS37 in China, and organize domestic industry representatives and enterprises to actively participate in the event.
The Asia-Pacific Electric Vehicle Association (EVAAP) is an international membership organization established in 1990, acting to promote the development and use of electric and hybrid vehicles in Asia and Pacific region. Currently, EVAAP has nine members from Asia-Pacific countries and regions. EVAAP is the Asian-Pacific representative to the World Electric Vehicle Association (WEVA) organizing the International Electric Vehicle Symposium (EVS) rotationally with European Association for Electromobility (AVERE) and Electric Drive Transportation Association (EDTA). As an EVAAP member, CES has hosted the EVS16, EVS25 and EVS34 in China.